It's a weekly struggle to make food that everyone in my house will eat.
Isabella's current diet consists of Tuna Fish on Ritz Crackers, Hot Dogs, Scrambled Eggs, Toast and Waffles/Pancakes.
The rest of us aren't going to sit down for dinner to eat any of that but at least she is eating something.
Trenton is a brave eater and always has been but he has what I call "Food Amnesia". He'll eat some thing once and Love it. The next time I make the same thing, before it even passes his lips he declares that he never liked ~What?
I guess it's PB&J for him!
Of course just like any man, Dave eats anything, except for some of the strange concoctions I whip up for myself (well, he thinks they are strange)
The other obstacle in our house is that I don't eat meat. (That would be why Dave thinks some of the things I eat are strange)
Let me clarify that since it can be a touchy subject for some people.
I don't eat red meat, pork, or poultry BUT I do eat fish, eggs & dairy products and we won't get into my secret obsession with
Bacon
(that should be a 4 letter word!). Bacon is the only meat
if it is actually one
that I crave and have to force myself to stay away from.
Why I do that, I don't know?
I don't have a grand agenda behind not eating meat, I wish I could say I was that good of a person and it's not for health reasons.
Really, it's just about what I like and what I don't.
Yes I know, Boring
This leads me to a dish I never thought Dave would eat.
Forget about the kids...it was late and the kids had eaten earlier.
Black Bean Burgers
!
I found the recipe for ever ago at
allrecipes
(one of my weekly "go to" sites for meal planning)
I have eaten frozen Black Bean Burgers and at restaurants but never homemade.
Dave has never tried one ever!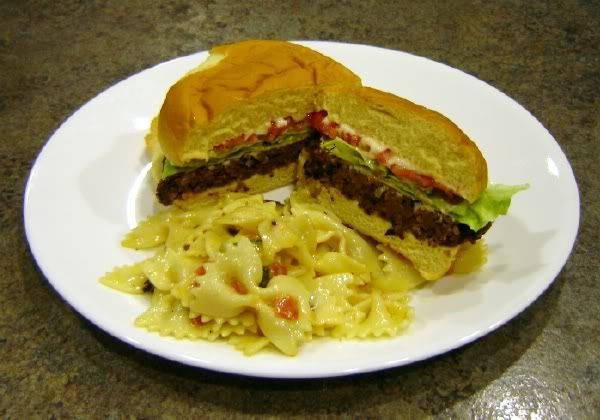 While Dave was out mowing the yard I made the burgers.
Very easy and quick to make!
I cooked ours in the oven and when they were done I loaded them up with mayo, homegrown tomatoes and lettuce.
I served the burgers along side leftover Farfalle pasta with Zucchini (a recipe from the Pioneer Women...another stop on the weekly meal planning quest)

When I called Dave in for dinner I told him to be open minded.

He was shocked when he ate it and I was happy to find that he Loved it and even wanted a second!

Since that night we have eaten them 2 more times
What Bliss to make a meal we Both can Eat & Enjoy!

~Patricia