We've gone heart crazy in preparation for valentines day.
Faux Stained Glass Hearts.
*Warning this can be a messy project
Materials:
2 sheets Wax Paper, Glue, Water, Tissue Paper,
embellishments to decorate your heart (optional)
Start by mixing equal parts water and glue, tear/cut up tissue paper, you can draw shapes on the wax paper at guides.
Dip the tissue paper in the glue mixture and lay in desired location on the wax paper.
When you are done place the 2nd wax sheet on top, so the tissue paper is sandwiched in between the layers.
Let dry 24hrs (depending on how much glue your little one uses)
Cut out the shapes when dry.
Hang them around the house or attach them to cards to give as valentines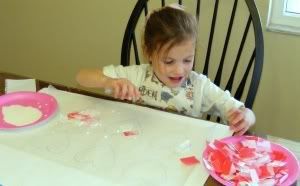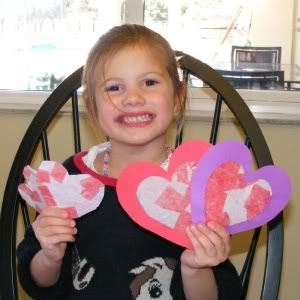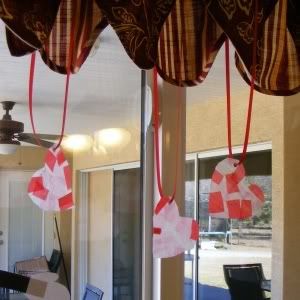 Next up
Wiggly Arm Hearts
This one is super easy!
Trace & cut out a heart shape
Decorate the heart
Cut strips of paper for the arms and legs
Accordion fold the strips
Glue the arms and legs to the heart
Cut out Shapes for hands and feet
Glue them to the arms and legs
You're done :)
Heart Mobiles
I downloaded scrap booking paper images from
Tricia-Rennea Art
Traced heart shapes in different sizes
Cut & Hang for a Fun decoration
Be Mine Heart Garland
I made this in Word, Printed it, Cut it and strung on ribbon
I'd love to share the document but I can't figure out how to post a pdf file in my blog
If I ever do I'll post it or you can email me for it.
*Revised*
Here's a download to the
Be Mine Garland
I stitched up a felt conversation heart while watching TV and I forgot to stuff it!
Still looks cute ;)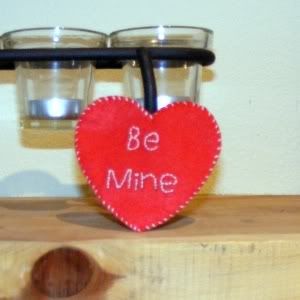 hmmm, who should I give it too??

~Patricia