School starts next week and soon we will be back to a busy schedule with after school activities.
This week I decided to test out a few recipes that will work during the hectic school year.
First up was
Saucy Italian Port Chops
from
Kraft Foods
I thought this would work for our family of diverse eaters because the non meat eaters could just have the veggies and rice.
The rice and veggies were so tasty in the sauce and the pork chops were juicy.
My only changes to the recipe was to add an extra 1/4 cup of balsamic vinaigrette reduced fat dressing and to kick it up a notch I threw in crushed red pepper flakes and garlic powder.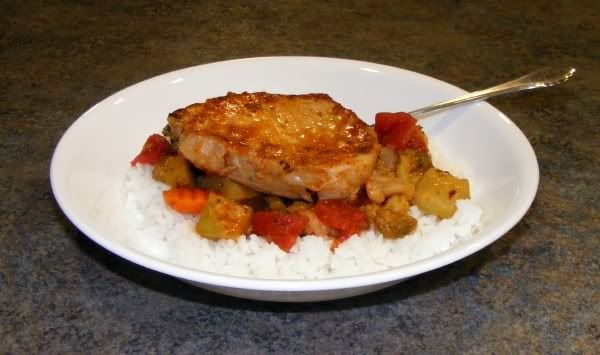 We also tried Shrimp, Tortellini and Spinach from Kraft Foods
I doubled the recipe so we'd have leftovers.

The shrimp dish was a Hit and liked by all
I even have visual evidence of Mr. Food Amnesia eating it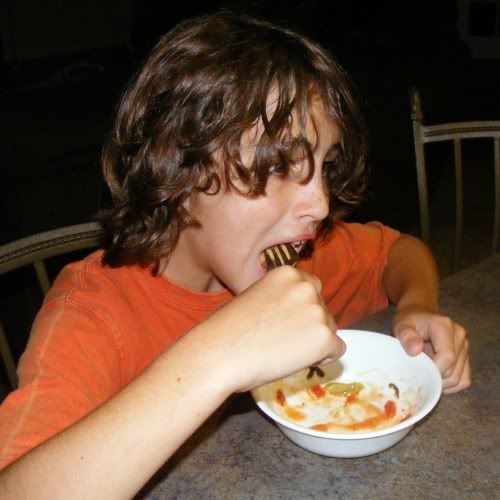 Next time I'll record him saying he like it, too!

My kids are big fruit and berry eaters and all summer they have been asking for a Blueberry Pie.
Where their obsession with Blueberries has come from I don't know but every time we go to the store they must have them. Could it be because our cat is named Blu, we even have a Webkinz named BluBerry
Blue is also one of Bella's favorite colors!

After seeing the Pioneer Women throw together a seemingly easy Blueberry Pie I thought maybe I could do it too.

Just to get it over with now...I didn't make my own crust.
I have made my own crust before but when trying a new pie I'd prefer to use a crust I Know will turn out right. Otherwise I might never make the pie again simply because the crust wasn't good.

I chose the Forth of July Blueberry Pie recipe from the Martha Stewart Baking Handbook
(my signed copy of the book given to me by my big sis Liz ~Thank You Again for waiting in that looong line)

Luckily I just found the recipe on Martha's site so I don't need to type it out.
My only variation was to add a 1/4 cup of sugar to the un-crushed blueberries before mounding them in the pie shell on top of the crushed berry mixture.
I also added sugar to the top pie crust.

Here it is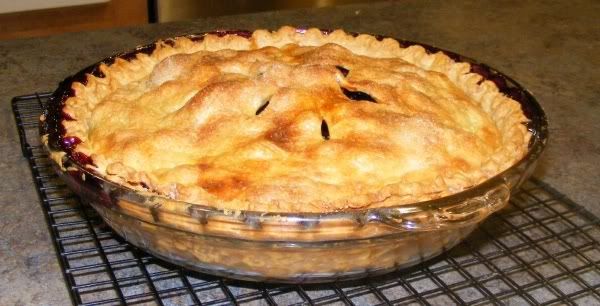 We were all impressed with my first blueberry pie
I will definitely make it again!


~Patricia