Happy
Earth Day
!
To celebrate the day I have a couple Environment Friendly projects.
Going Green for me is not just about helping the environment, it's also about saving money.
I thought a good way to start is making my own laundry detergent.
Of course I can't find my receipt so I don't have the numbers on this.
The last time I bought "regular" commercial laundry detergent I think it cost me around $15.00-17.00 and I bought the HE kind for 64 loads.
The ingredients to make this detergent only cost a few dollars.
The recipe it self would be under $2.00 for approx. 40 loads (maybe less if I knew the numbers LOL).
Homemade Powdered Laundry Detergent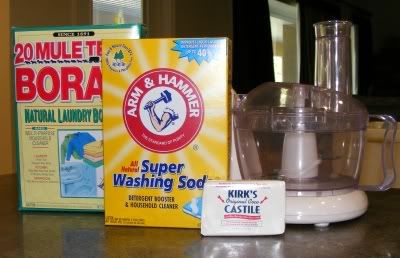 What you need:
1 Bar Soap (Pure & Natural, Kirk's, Fels-Naptha or one you prefer)
1 Cup Washing Soda (not baking soda)
1/2 Cup Borax


You can Grate or Chop the bar soap.
If you Grate you do not need to use a Food Processor.
Since I am making a Powder Detergent I wanted it really fine, so I chopped and put it in a Food Processor.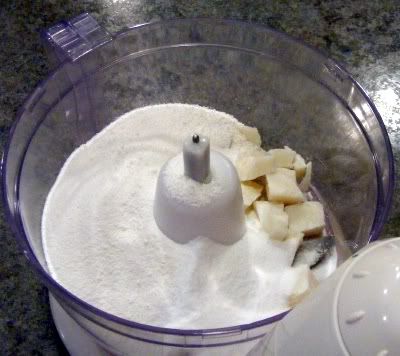 If using a Processor, put all your ingredients in...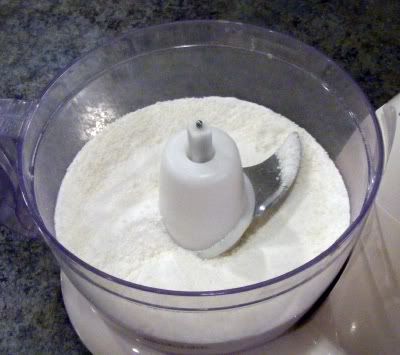 Pulse until well mixed and fine.


I recycled a plastic container to store the powder.

If you didn't use a Food Processor, just Grate the bar and mix the ingredients.

You can mix a few drops of essential oil in as well, perhaps orange, lavender or tea tree.

To Use:
1 TBS or 2 TBS for heavily soiled loads

There is also a recipe to make this a liquid detergent. I haven't tried it yet.
When I do, I'll post it.

additional info:
Why I chose Kirk's Soap
No Animal By-Products, Never Tested on Animals, Hypoallergenic, Biodegradable, No Synthetic Detergents

Check back later for a fun Upcycle project!
~Patricia