Is it Hot or Raining outside?
From crafting to playing, sock puppets provided my kids with hours of fun!
The other day I got the usual "Mom we're board...lets do a project!"
I sigh, as I think about all the things I need to get done around the house.
What can the kids make without much help from me??
How about puppets!
This thought started out as paper bag puppets, in my mind.
As I grabbed a stack, Bella said "No Mama, SOCKS"
I can never can find matching socks when we need them...that works perfect for this craft!
My other issue with socks, is that none of ours "look" clean.
Kids in and out of the house all day, more often than not the kids are shoeless and socks (if they are wearing them LOL) get worn outside.
What's the deal with that??
I remembered a sock puppet a teacher had that had a "hard mouth".
Problem Solved...More on that later
While the kids looked for socks, I got out glue (regular & hot glue), markers, fabric scraps, felt, cotton balls, ribbon and google eyes.
With the kids hard at work on traditional sock puppets, I worked on my new version.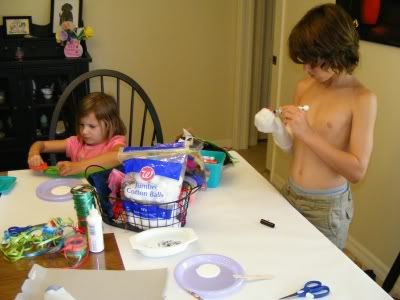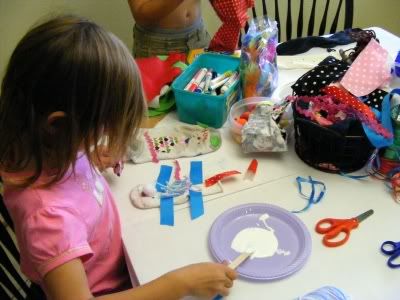 How to get rid of the dirty bottom on the sock ;) and make a better puppet
Using a cereal box I cut out an oval approx. 2.5 by 4 inches
(this worked well on an adult sock)
Depending on the size of your sock you may need to adjust the size.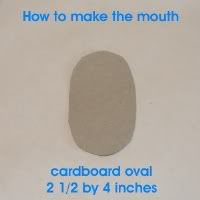 Fold the oval in half, use scissors or a ruler to press down the crease.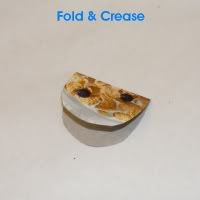 Push the cardboard to the tip of the sock.
Put your hand in, with fingers on top and thumb on the bottom of the cardboard, test out the mouth to make sure it is where you want it.
Now, cut a smaller oval in the sock, where you want the mouth.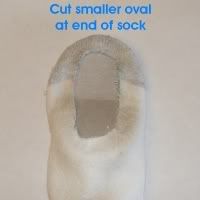 Ick, look at that dirty sock!


Glue the cardboard to the inside of the sock.
I used hot glue so it would dry faster but any glue will work.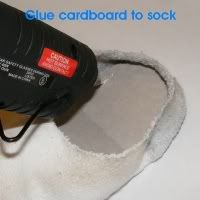 To make it look more like a mouth.
cut out another oval from fabric or paper and glue it on top.
Check it out, looks awesome, right?
Here are a few of the puppets the kids and I made
Sheep (using cotton balls for the woolly fur)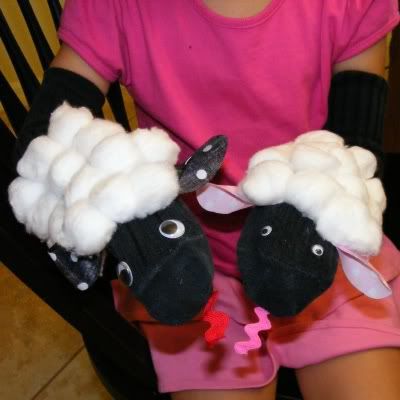 A Cute cat with the "hard mouth", yarn tail and ricrac collar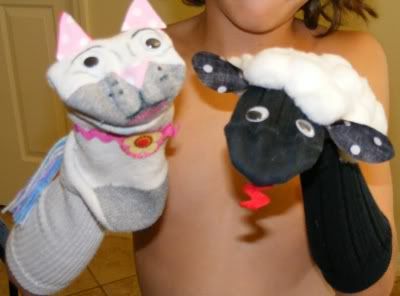 Puppy dogs with floppy ears
(those are our dogs Onyx and Yota...really they look just like them!)
Another cat and Bella's version of our dog Onyx
Bella enjoyed chasing us around the house having her puppet bit us, LOL
Happy Crafting!
~Patricia