Make your own Christmas Tree
I have been eyeing these
porch/entryway
Christmas trees that I have been seeing at stores, for a while.
I've seen them in many sizes, with or without decorations and typically they range in price from $30-100.00+
I don't have much of a budget for holiday decorations this year, so I made my own.
I started with an empty flower pot and a tomato cage.
You can place the tomato cage upside down over the pot, like I did below
or if your pot is large enough you can place it in it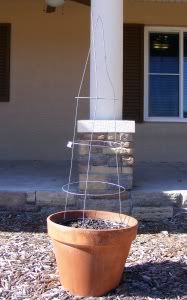 I used 3 9ft sections on 2ply pine garland that can be purchased for $3.99 each.
Wrap each section of garland around the tree and position the branches to fill in the empty spaces. It won't cover perfectly but trust me it will look fantastic when your done.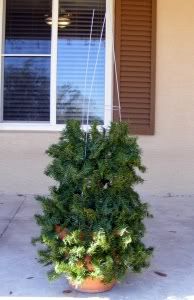 After the pine garland was in place, I wrapped a string of white lights around it and Bella added the faux poinsettia to make the tree look festive during the day.
The tree looked awesome all lit up tonight.
After I make another I will post more pictures.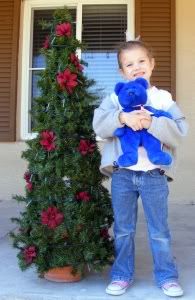 While at a holiday home tour I saw similar trees wrapped in moss and decorated with fruit.
One used only green apples, it looked beautiful.
Pompoms
Bella has jumped on the Pom pom Garland craze.
This was an easy craft that she really enjoyed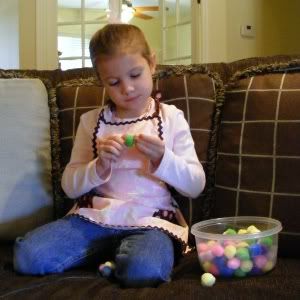 She loved the fact that she could do it all by herself and it didn't take long.
Looks great on
her
and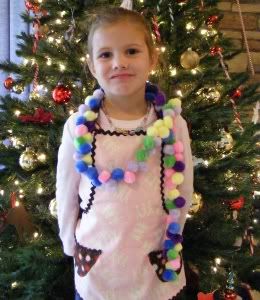 on her very
own
Christmas tree!
Felt Ornaments

Here's a sneak peak at a felt ornament I made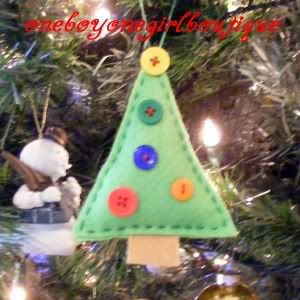 I am working on a couple other designs based on cookie cutter shapes.
When I'm done I will post my patterns so you can make your own.
Happy Decorating!
~Patricia