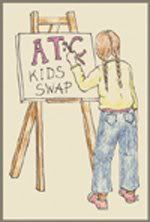 Click on over to
House on Hill Road
to sign your child up for a
Artist Trading Card Swap
.
As you know my kids love to draw and paint, they also love to get mail.
In this Swap the kids will be grouped with 5 other children of the same age.
Each child will create 5 Artist Trading cards of their own and mail them to their partners.
In return your child will receive 1 card from each of the children in their group.
I know, sounds confusing when I explain it.
Here are some of the details from the
House on Hill Road blog
- Please send a message to
atckidswap@gmail.com
by this Friday, 2/6. Let us know your address, your child's name and age. International swappers are welcome!
- This is exclusively a project for children and for that reason, we are specifying that participating children be ages 4 and up. No adult ATC's, please.
- We will divide the children into groups of 6, meaning your child will make 5 cards to mail out. You will receive your group from us on Monday, 2/9.
- Artist trading cards are all the same size: 2.5" by 3.5". Because ATC's are so small, they will fit into a standard envelope. To keep it simple, the participants are not obligated beyond mailing the actual card out to its recipient (plus any information about the card they'd like to add). Anything extra is up to the sender and is not expected or required.
- Finished cards should be mailed out to their recipients no later than 2/28.
If your interested visit their
blog
for additional details and to learn exactly what an
Artist Trading Card
is. Don't forget to email them by Friday February 6th to sign up!
~Patricia