I have been adding Dazzle to Tees for over 4 years and this is the first shirt that I designed for women.
Yes, I have made shirts for women but never intentionally made a design geared for an adult.
I was invited to take part in a special launch on eBay celebrating
Sandi Henderson's
Farmers Market fabric line.
I love the fabric along with her previous Ginger Blossoms line.
With the launch of
my website
I plan to include women's tees and more but wasn't sure what direction I wanted to take the tees. I would like them to be sophisticated and fit in with current fashion trends. I'm sure I'll include the usual cute sayings for mom's too but I wanted to start off the line with a statement.
The Farmers Market fabrics inspired me to create a coordinating paisley design on a soft chocolate brown tee.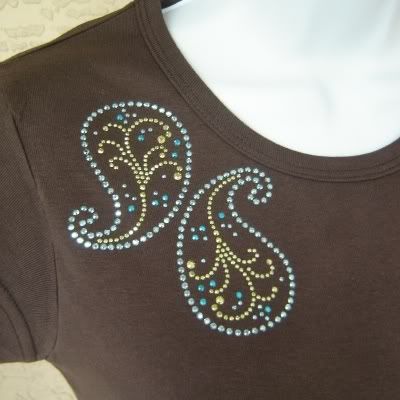 To complete the look I created a Stripwork Fabric Belt made out of Sandi's Farmers Market, Ginger Blossoms fabric lines and a faux Tortoise Shell Belt Buckle.
The Belt and Tee look fabulous with a pair of jeans!
I love it so much that I'm keeping mine :)
But you can have your own by checking out
my listings on eBay
I have the Belt and Tee available in the same listing.
They will be recreated in a custom size for the winner.
I hope you like it as much as I do!
~Patricia