This past weekend we setup our first vegetable garden at our new home.
In the past we have gardened the traditional
single row
way.
Spending a day tilling a large plot of land and the next couple days adding compost to Florida's sandy soil.
It was back breaking work!
But who doesn't love to watch a garden grow and relish the joy of picking your first vegetable.
That's all well and good until the garden becomes over grown and filled with weeds!
By summers end no one wants to walk in the garden and it sits in the yard as an unsightly mess!
Even though we have more than enough land here, I wanted to find an easier, more enjoyable way to garden with the kids.
With a little research I came across a book about
Square Foot Gardening
I have gardened in a raised bed before but the concept of this book was to start with the Perfect Soil (the exact recipe for that is in the book) and to break up your raised bed into square feet to better utilize the small space. The book goes over exactly how many plants of each vegetable can be planted in one square foot.
The basic box is 4x4ft using 2x6inch boards.
Because I am a rule breaker by nature I chose to use 2x8's ;)
You can get the wood cut to size at the lumber yard -
Gotta Love That!
Here's David, Bella & Trenton putting the box together -
Which took only minutes!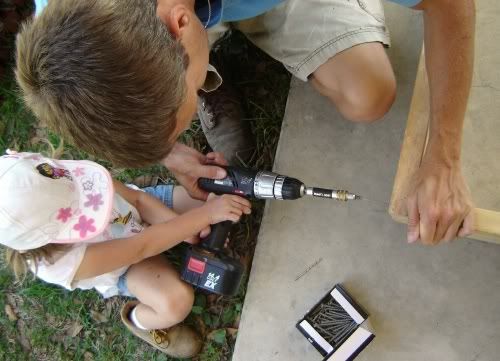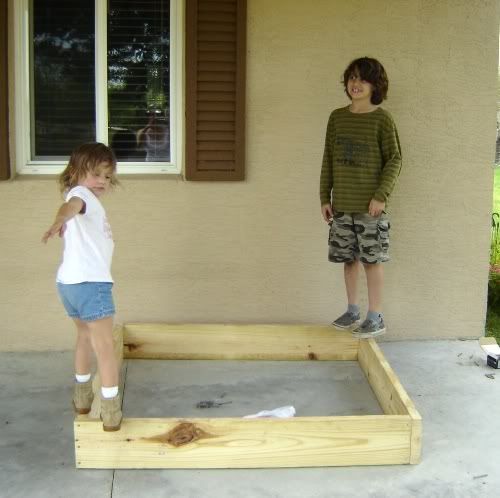 The book suggests adding a bottom to the box to keep weeds & grass form growing. You can use weed tarp or a flattened card board box. If you use wood make sure to drill holes for the water to properly drain.
We used weed tarp and added chicken wire to keep moles out. We stapled the weed tarp and chicken wire to the box but that isn't necessary.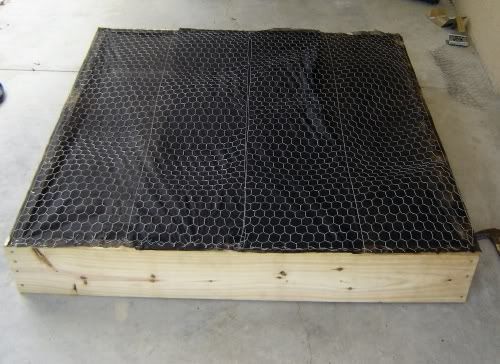 Once the box is finished move it to where you want your garden...it would be smart to build it where you want it...we built ours on the porch to avoid the hot sun.
Now your ready to add your Perfect Soil...if you don't have the book you can get basic direction's on the
SFG website
The book has some crazy math to figure out exactly how much of each ingredient to use.
Math is not my strong suit
We used 1 44lb bag of Peat Moss, 2 different types of 40+lb bags of Compost and 1/2 a 4 cu ft bag of Vermiculite.
I was able to find all those items at Home Depot.
The mix was just enough to fill our 4x4ft 8inch high box.
We mixed all the ingredients on a tarp that Onyx-pup helped spread out for us ;)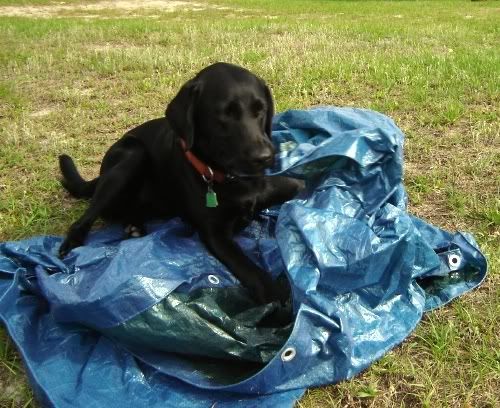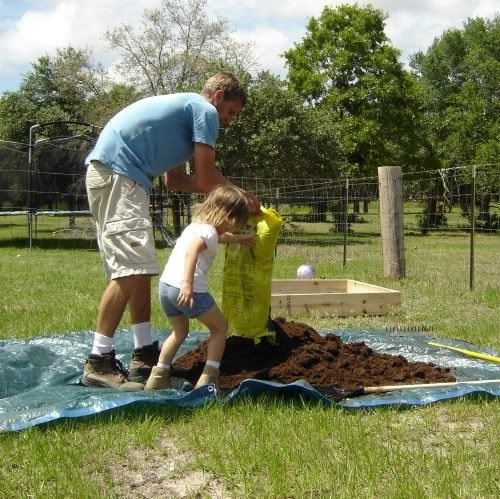 Have two people hold opposite sides of the tarp and roll the ingredients to mix.
After it was mixed we shoveled a little into the box until we were able to lift the tarp and dump the rest.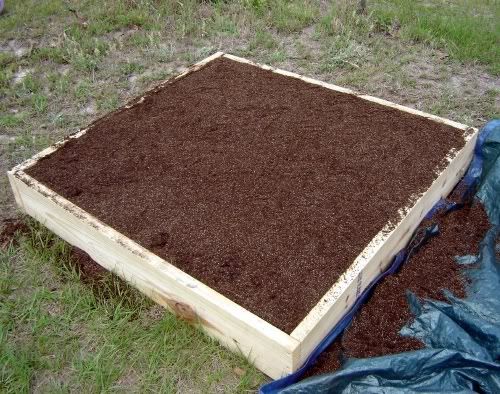 Once filled we added a grid to plot out our 1 foot spaces and added our plants and seeds.
What we planted:
8 corn plants, 2 tomato, 1 green pepper, 1 red pepper, 1 hot pepper, 1 strawberry plant, 2 broccoli, oregano, basil, 8 heads of lettuce and 24 carrots
The project was fun and took a short time to put together...we are already planning another box!
Later we sent Onyx-pup to sniff out some pesky moles!
She did a great job digging up an abandoned hole to find a little glass snake
Awww, Good Puppy!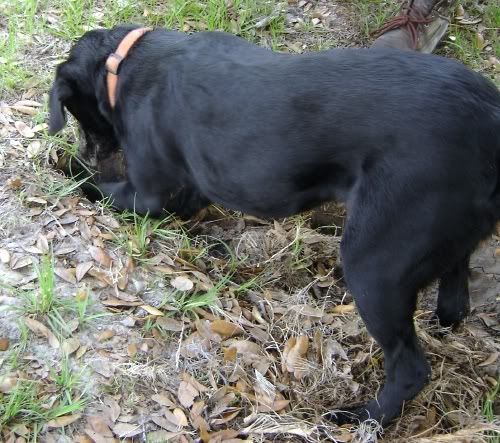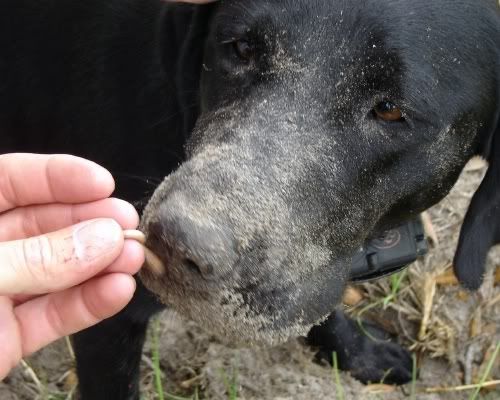 ~Patricia